Avocado Mattress
Avocado

 

Mattress Review

Avocado is a high quality organic and latex mattress brand. Their flagship Green Mattress is an organic latex hybrid mattress that doesn't skimp. For chemical sensitive folks or those that suffer from airborne allergies, having an all-natural mattress is a must, but Avocado goes a step further. They are certified organic, going through a stringent process to have their source materials, factory and products certified GOTS organic. They also offer a Certified Vegan Mattress, a firmer organic all Latex Mattress, a Luxury Organic Hybrid Mattress, and their new, competitively priced Eco Organic Mattress.
KEY CUSTOMER FEEDBACK
 +2x better cooling
 +1.3x firm support
 +2.6x love it
Mattress Scores
Overall Score: 9.4/10
Customer Satisfaction: 9.3/10
Price Value: 9.5/10
No Back Pain: 9.4/10
Price: $699-$8798
Trial Period: 1 Year
See More Scores
Get Up To 2 Free Pillows
Avocado's Specifics
The Avocado Green Mattress is one of the best organic hybrid mattresses available. With its inclusion of organic materials, from GOTS certified organic wool, GOLS certified organic latex, a high Consumer Reports rating, and a very similar certified Vegan Mattress option, this brand is not messing around when it comes to providing high quality, all-natural, sustainable, eco-friendly, and anti-allergen mattresses. Take a look at all of their certifications and how they are different, including their Climate Neutral certification. For sleepers who prefer a firmer mattress, Avocado has even created a certified organic, all foam Latex Mattress, which offers firmer support.

For side sleepers that are concerned about the firmer latex feel, Avocado has built a thick, medium-soft Luxury Organic hybrid mattress, with thick layers of high-end materials like alpaca and silk. It also comes with an optional pillow top addition with microspring technology for a truly sumptuous, soft comfort.
Quality of Materials
Avocado offers MADE SAFE® certified latex and latex hybrid mattresses that use only eco-friendly and green ingredients. They use GOLS certified organic latex, GOTS certified organic wool, and organic cotton to make their mattresses from their factory in Los Angeles. In the Avocado Vegan Mattress, they offer 100% USDA organic cotton batting in replacement of the wool layer. While this may cut down on the temperature regulation, it means no animal-based products are used in the mattress, while still meeting federal flammability standards.
We'll walk through what is inside their mattresses, and which options will work best with your body.
Avocado's popular Green mattress and Vegan mattresses are similar in layers, with both having an optional 2'' added pillow-top. Here is the full break down of their Green Mattress (and Vegan Mattress):

Layer 1: The cover is hand-tufted, 100% organic cotton stitched into a lining of temperature regulating GOTS certified wool in the Green Mattress, or a layer of organic cotton batting in the Vegan Mattress. The optional pillow top adds another 2'' layer of soft latex in the cover for extra pressure relief.
Layer 2: 2'' of high response GOLS certified organic latex provides a supportive and responsive feel combined with subtle joint and pressure point relief.
Layer 3: 8'' of tempered steel pocket coils provide even weight distribution and support for the spine. Avocado's pocket coils are arranged in 5 distinct ergonomic zones that contours to your body while reducing motion transfer.
Layer 4: 1'' of high density latex foam gives the mattress a foundational structure.
Next, their all latex mattress comes in at 9'' for a slim but responsive feel. It's ideal for stomach sleepers and those that prefer a firmer, supportive profile. With organic and Greenguard Gold certifications, it offers the same high quality materials as other Avocado mattresses.
Here is what's inside their firmer Latex Mattress: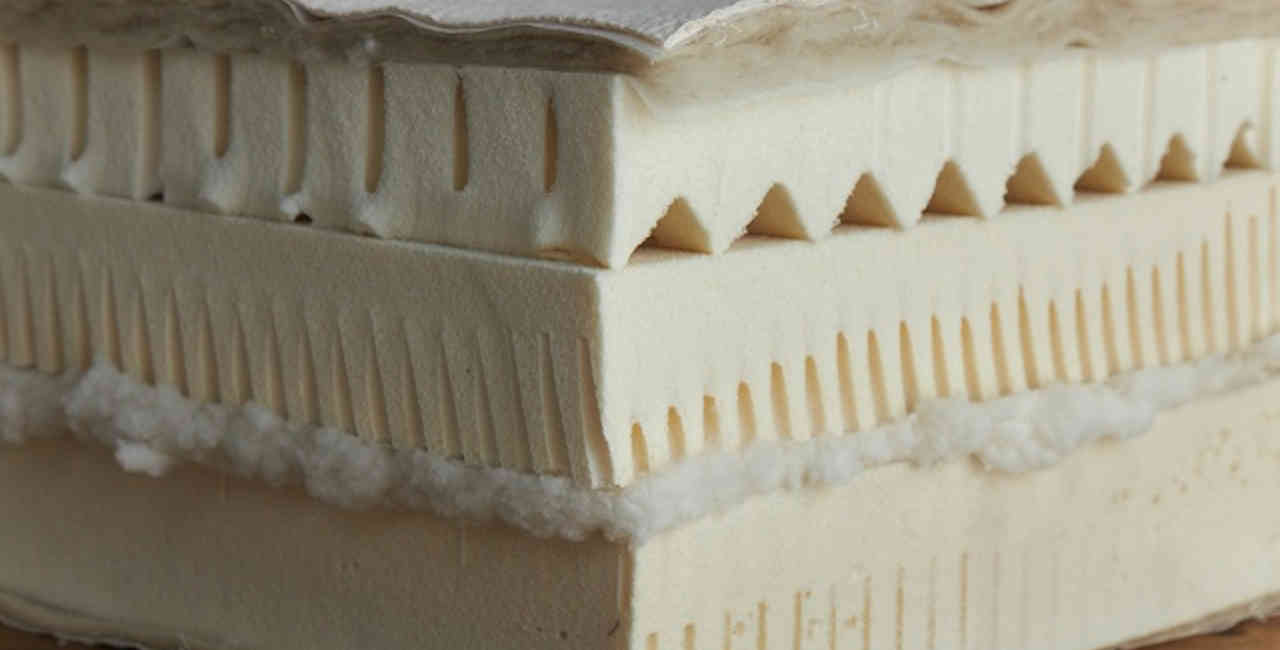 Layer 1: The 100% stretch organic cotton cover offers a soft and refreshing feel. This layer has wool hand-stiched in for additional temperature regulation and comfort.
Layer 2: 2'' of contouring GOLS certified organic Dunlop latex provides subtle pressure relief and response.
Layer 3: 3'' of GOLS certified organic Dunlop latex, which is naturally supportive, responsive, and firmer, acts as a transitional layer providing quick response and a very subtle give with a thin layer of 100% organic cotton beneath.
Layer 4: 4'' of GOLS organic Dunlop latex base provides an exceptionally supportive and firm base to the mattress.
Sleepers looking for the most luxurious sleep experience Avocado has to offer, their Luxury Organic Mattress fits the bill. Available in a 13.25'' thick 'Standard' option and a 17'' 'Plush' option, this hybrid mattress is perfect for slimmer side sleepers and those that want plenty of cushioning around pressure points. Just the same as the other Avocado mattresses, it offers organic and Greenguard Gold certifications.
Here is what's inside their superbly plush Luxury Organic Mattress: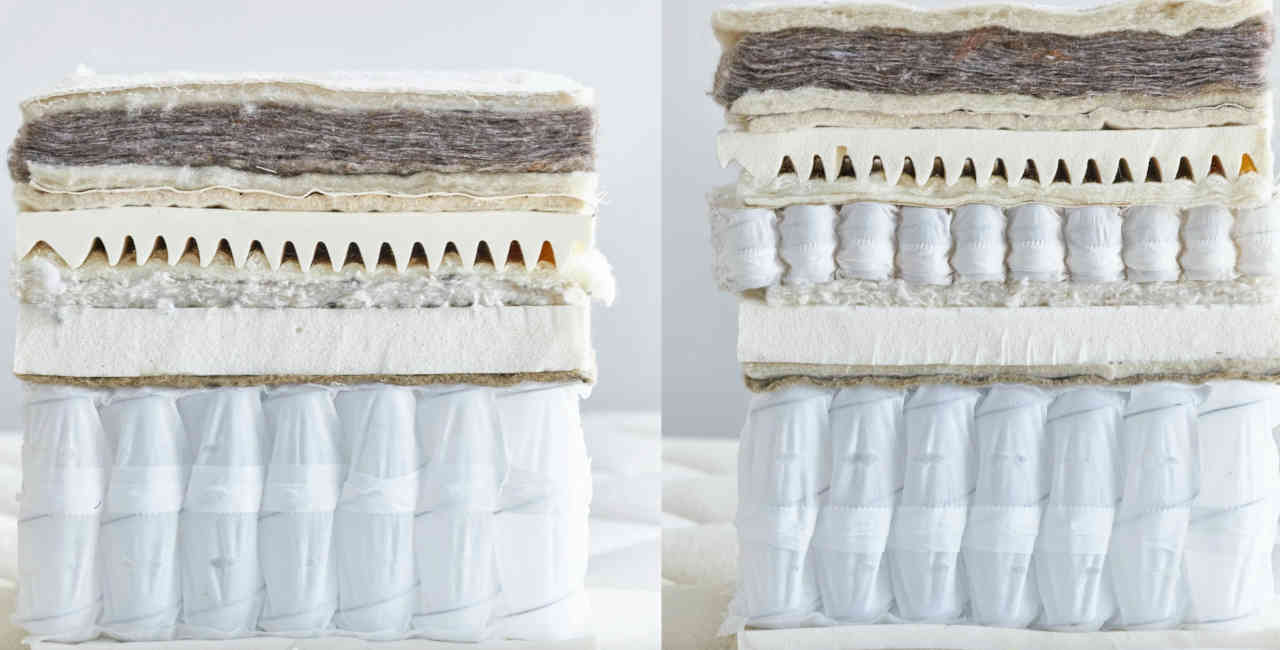 Top Panel: The top panel is made from GOTS organic cotton, natural ethically sourced Alpaca fiber, and ethically sourced, OEKO-TEX® & GOTS certified wool. There are 4 layers of cotton and wool in this top layer with sourcing from Canada, Himalayas, the Netherlands, India, and South Carolina. An additional 2'' thick layer of Alpaca fiber helps to provide exceptional pressure point relief. This fiber may adjust and compress somewhat over time and require a bit of fluffing and rotating.
Comfort Section: The comfort section includes 2'' of soft, GOLS organic Dunlop latex featuring 3 contour comfort zones to provide your body with a body hugging support. A layer of GOTS organic certified fiber blend of cotton, wool, and silk and a layer of GOTS organic certified cotton canvas rounds out this section.
Support & Base Layers: Featured in the core of the mattress is a 2'' layer of GOLS organic Dunlop latex over an 8'' layer of individually encased pocket coils. Made in their Los Angeles factory, these coils feature 5 different zones of support, including a strengthened perimeter for edge support. A layer of GOTS organic certified hemp provides firm support for the pocket coils. Additional layers of GOTS organic certified cotton canvas, wool, cotton jersey, and fiber blend help hold the mattress layers in place. The Plush pillow-top mattress option includes an additional 3'' layer of micro-coils that contours to the body and relieves pressure as well as a layer of GOTS organic certified blend of wool, cotton, and silk. Combined together, these layers will provide loft, a subtle bounce, and back support.
Lastly, we'll take a look at what's inside their 10'' thick, competitively priced Eco Organic Mattress:

Layer 1: The top cover is a soft, GOTS certified organic cotton and wool quilted layer. The organic wool acts as a natural fire barrier while also helping to regulate temperature.
Layer 2: 2'' of GOLS certified organic latex acts as the main comfort layer for this mattress. Latex has an open-cell structure which helps to dissipate heat in addition to providing a bouncy, medium feeling support.
Layer 3: The main support for this hybrid mattress is 8'' of individually encased pocket coils made with recycled steel. The 3-zoned pocket coils are reinforced along the sides and head/foot of the mattress to provide proper edge support.
Overall Comfort
Avocado's Green Mattress gets the highest marks from customers for their materials, supportiveness, and price value for the exceptional organic construction. Its firmness is great for back sleepers and combination sleepers. Side sleepers will do better with the pillow top option in the Green Mattress or Vegan Mattress or the plush Luxury Organic Mattress, which provides exceptional pressure point relief. Many report that these mattresses sleep cooler than memory foam, which is an added benefit for those that sleep hot. Also, the Vegan option for no added cost is a wonderful option for animal-conscious sleepers.
Firmness

Avocado's Green Mattress is on the firmer side of medium-firm with customers being +1.3x* more likely to mention good firmness and support vs. the average comparable mattress. It is great for back sleepers, stomach sleepers, and larger side sleepers. The Latex Mattress offers even more support for those that need it. Average sized side sleepers should consider getting the optional pillow top addition or the plush Luxury Organic Mattress.
Back Pain Relief
Based on the firmness, Avocado's Green Mattress and latex mattresses should provide a good amount of back pain relief for those that are back and stomach sleepers. For side sleepers, the Luxury Organic Mattress will provide exceptional initial pressure point relief. Make sure to rotate the Luxury Organic Mattress to cut down on compression in the top layers.
Cooling
Customers report good experience with cooling, with customers +2.1x more likely to mention positive cooling than the average alternative.
Who Are Avocado Mattresses Right For?
If you are looking for an eco-friendly and organic mattress, Avocado's mattresses are a very high quality, great option to take a look at with a range of options to fit any sleeping position and preference.
Frequently Asked Questions About Avocado
Are Avocado mattresses worth it?
The Avocado Green Mattress is a highly rated organic mattress. For those that are looking for a fully certified mattress, most customers find the price is well worth it versus many other competitors.
Does Avocado mattress need a box spring?
No. The Avocado mattress does not need a box spring and actually Avocado recommends against it as improper box springs can void the warranty. The Avocado mattress does well on a solid foundation with slats that are less than 5 inches apart.
Can you flip an Avocado mattress?
It is not preferred. Neither Avocado mattress is designed to be flipped. For those adventurous types that don't believe us, the Latex Mattress flipped would be quite firm, but may still be usable, though it is not recommended and may void the warranty.
Is Avocado mattress good for side sleepers?
Yes, but with one major caveat. For average sized side sleepers, the Green Mattress is the more pressure relieving option between their offerings, but needs the optional pillow top addition to really relieve pressure on the hips and shoulders. The Avocado Luxury Plush Mattress offers the best pressure relief for side sleepers, but comes at a higher price point.
Where to buy Avocado Green Mattress?
The best way to buy an Avocado Mattress is direct through their website for their trial and seasonal discounts. Also, Avocado Green Mattress can be found in branded retail locations across the USA.