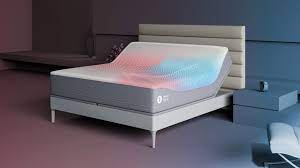 Sleep Number Bed Reviews
Individualized comfort: Sleep Number beds allow users to tailor their firmness and add or remove air from interior chambers until they find the ideal "sleep number." When coupled with a FlexFit base, these smart beds offer even more.
The Innovation Series' i8 and i10 models feature a 6-inch thick comfort layer with temperature regulation technology, making it suitable for light to average-weight side sleepers.
Size
Sleep Number has been around for 30 years and is widely recognized for their customizable beds. Their air chamber beds can be adjusted to match an individual's desired firmness preference. Furthermore, Sleep Number beds feature smart systems, adjustable bases, and different types of comfort foam www.thesleeploft.com pads that further customize them for users.
Some buyers of memory foam mattresses are satisfied with their purchase while others may have differing experiences. Some users complain of air leaking and pump malfunctions as well as low buzzing noises during adjustments, with others reporting bed sag in the middle, which could be an issue for couples sharing one mattress.
Sleep Number offers various bed models that offer different features and price points, making their selection ideal for back and side sleepers of any type. The popular c2 model boasts medium firmness for back/side sleeping while the more cushioned i10 model comes equipped with seven-inch memory foam on top of air chambers for additional cushion. Furthermore, both options provide temperature regulation due to built-in cooling technology features.
Sleep Number offers a 15-year limited warranty that protects buyers against manufacturing or material defects in their mattress, providing peace of mind to purchasers. Their A+ Better Business Bureau rating gives buyers additional confidence when they make their purchases.
Firmness
Sleep Number beds feature various firmness levels to suit various sleep positions, with the Performance Series offering medium-firm comfort while the Innovation Series offering plusher ones. If you opt for the i10 Smart Bed you can take advantage of smart features such as SleepIQ and active cooling/heating. However, there have been durability complaints as well as higher prices than competing models.
Firmness and support should both be considered when selecting a mattress, with firmness being an immediate feeling when lying down while support means keeping your spine in an alignment that's natural for you. Sleep Number beds have earned praise for their firmness levels but it's important to select one with which you feel most comfortable - just watch out if the firmness gets too soft!
Sleep Number advises those unsure which firmness level to select to increase the setting to 100 and see what that feels like before adjusting the number downward until finding one they find suitable. Furthermore, they suggest changing it every night until achieving your ideal comfort level; though this process may take time, the effort will ultimately pay off and can even be returned if it doesn't suit.
Convenience
Sleep Number beds feature 360 Smart Bed line which connects with sleep apps to provide insight into sleeping habits, as well as responsive air technology which detects movements and adjusts the bed according to user comfort requirements. One great example is Sleep Number P6 featuring Coolgenex and Ergonomex foam which are infused with graphite so as to draw heat away from the body while helping maintain balanced temperature regulation.
Couples who each prefer different support levels may appreciate that Sleep Number beds feature dual air chambers so each side of the mattress can be individually adjusted. For instance, the c2 model features two adjustable mattresses and FlexFit bases so each sleeper can personalize their mattress to meet their ideal height requirements.
One of the primary complaints among Sleep Number owners is that their beds frequently experience breakdowns and other issues, with many customer reviews we read reporting their mattresses leaking air resulting in discomfort and less restful nights' rest; often this can be traced to malfunctioning air pumps, connections or controllers.
Some Sleep Number beds cause sleepers to experience a trench effect, usually caused by mismatched dual air chambers which allow each side of the mattress to adapt its comfort setting differently, leading to separation in the center.
Price
Sleep Number offers a selection of beds designed to meet all sleeping preferences and positions, from traditional foam or spring mattresses up to their smart series beds equipped with sleep tracking technology and adjustable bases. Their c2 and c4 models are priced competitively against similar mattresses; however, prices quickly escalate once considering these advanced sleeping solutions.
The i10 Sleep Number bed stands out as one of the more expensive models. Featuring an airflow mattress surface which regulates temperature, adjusts firmness, responds to movement and comes in three sizes, it features five inches of cooling memory foam above air chambers for extra comfort.
Many people appreciate being able to personalize their mattress to their personal preferences, yet the lack of an effective warranty and high price tag may turn some away. Some users also report issues with sagging between dual air chambers.
Sleep Number's website boasts an excellent support section with videos and content designed to assist with troubleshooting problems, but many customers report their Sleep Number bed has broken down within just years of purchase despite these policies; their 100 Night Trial Policy and 25 Year Limited Warranty cover some damage while customers must cover some repair costs over this timeframe.